Car insurance can be a pain. More often than not, when the renewal notice drops through the door, it's gone up from last time.
In years gone by, the car, your house and your house contents were all you really needed to worry about insuring. These days however, there are policies for everything - the dog, the sofa, your teeth, credit cards, your wedding. In that kind of company, divorce insurance doesn't seem so strange maybe.
Divorce insurance, of course, started in the USA but might become bigger business here if Justice Minster Ken Clarke's plans to slash legal aid for divorce cases come to fruition? If that is the case, thousands fo individuals each year on lower incomes who would have been able to seek legal aid to cover the costs of their divorce, will not be able to. Only if there are allegations of domestic violence or child abduction, or a question of forced marriage, will legal aid still be available in divorce. More couples will, therefore, be looking to insure themselves against divorce fees.
Is this a good thing? Socially it makes sense. Why not safeguard against something bad happening? That's what insurance is all about. Why should a marriage be any different? It is a fact that more than one in three marriages ends in divorce – around 140,000 a year.
If you are a law firm that takes a significant number of legal aid divorce cases, I guess you will not be so keen. Mr Clarke wants to save at least £400million a year from an annual bill of £2.1billion. Some legal experts who live on legal aid paid in civil disputes are expected to see their fees slump by 40 per cent.
Woolley & Co do not undertake legal aid cases so I can perhaps be more objective than most in the industry about this. Removing legal aid in "normal" cases – eg those without any criminal connotations such as those mentioned above – will, for some, make it harder to get a divorce and so perhaps make them look at the relationship again to see if they can work a bit harder.
If this change comes in, it may also prompt more people to look at a prenuptial agreement. Now while these set out how assets will be divided in the event of a split, they could also be used to set out how any divorce would be paid for, eg an agreement that the legal costs will be met out of the joint assets. This would negate the need for divorce insurance. Both will still be seen by some as unromantic and unnecessary – an admission perhaps that they might not succeed in their union – but I suspect more people will be looking at the options.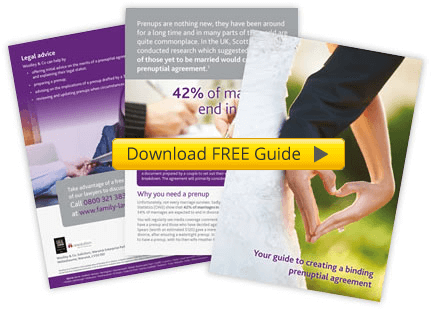 Premiums for divorce insurance start at around £750 for a one-off policy, I am told, or couples can pay a monthly standing order of around £10 for the length of the marriage. Having something like the monthly divorce insurance showing up as a monthly direct debit could work either way I suppose, reminding you of your commitment to each other or providing a potential way out.
Andrew Woolley
Divorce solicitor