1. Save a fortune (1) Save a fortune in claims against you especially if you become much better off after the wedding or if you have a significant amount more money than your proposed spouse / civil partner. (Just ask Sir Paul McCartney)
2. Save a fortune (2) Save a fortune in legal fees. Yes, really. If you spend a few hundred pounds on a properly drawn up prenuptial agreement now, then you will likely save many thousands of pounds in legal fees if there are claims against you upon divorce. It is highly likely the agreement will be kept to by the Court or at the very least it is likely to significantly reduce the extent of claims.
3. Keep out of Court. You don't really want to go to Court, do you? Those with a prenuptial agreement are much less likely to suffer the trauma of Court upon divorce. Court cases are not just about legal fees, they are very stressful. We do all we can to keep people well out of Court.
4. Protect yourself. It's not all about protecting the person with all the money. Many assume it is. But you can do all possible to ensure that you (and maybe your children) get a proper and decent settlement upon divorce and quickly, too. Many people with large amounts of funds can afford complex structures and foreign ownership to make claims extremely difficult. You can avoid all that.
5. Protect your children from precious relationships. Say you have two children from a previous marriage. Their other parent probably made a settlement expecting, as did you, that the children would inherit in time. If you remarry and have children (or your new spouse has children) this can create a major mess of conflicting claims and pressures. Just avoid them.
6. Establish procedures and ground rules for sorting out otherwise complex issues between you such as, for example, who if anybody leaves a joint business and how it is valued.
7. It may well actually strengthen your relationship. You will have to face issues that will arise, divorce or not, during the marriage. This can help you develop good communication skills together right from the start.
8. Decide yourself. Do you really want Judges and lawyers deciding what is what in your relationship? Of course, not so a pre-nup will try to remove as much of that possibility as it can. Make sure you use a specialist family law firm for the best cover.
9. Remember, a marriage or civil partnership just might not be forever, but a good pre-nup is!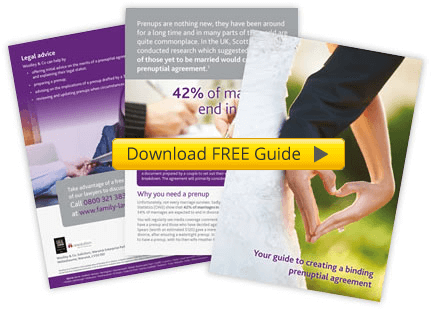 Woolley & Co, Solicitors can prepare and advise on prenuptial agreements for a fixed fee. Contact a family law expert on 0800 3213832.