Divorce and family law solicitors in Sutton Coldfield
Woolley & Co, family law solicitors in Sutton Coldfield offer high quality, friendly and confidential advice on divorce and family law related questions. Call us in Sutton Coldfield on

0121 6616706

0121 6616706 or complete our online form to get a call back.
Family law experts
Woolley & Co, Solicitors is a divorce and family law firm with offices around the UK including Sutton Coldfield. Noted by Legal 500 as one of the Leading Family Law firms in the country we are trusted by over 2,000 clients every year to handle their divorce and family law cases. Since we were founded in 1996 over 20,000 people have asked Woolley & Co to help with their divorce, separation or family law matters.
Approachable professionals
At Woolley & Co you are assured of confidential advice from a family law professional who will explain everything to you in plain English. The legal world is full of jargon but your lawyer will make sure you fully understand everything before moving forward.
Recommended for family law
Over 83% of our clients' report being satisfied or very satisfied with the service received. Our clients regularly recommend us and provide some excellent testimonials:
"Once again, many thanks for all of your work and advice you have given me during the divorce proceedings and the subsequent financial settlement. You have made the process easy to deal with and done so in a professional and friendly manner."
KJ, School Teacher, Sutton Coldfield
"I would like this opportunity to thank you for all your help, you guided me through ALL legalities and made much easier what was a difficult time for me whilst being professional throughout, Woolley & Co should pat you on the back, I give you 11 out of ten and once again thank you and I will recommend you to anyone I know who needs your professional expertise."
David Froggatt, Birmingham
"… kept me focused on the bigger picture when I could easily have become distracted with the inevitable ugliness of a marriage break-up. Richard's wit and humour got me through many of the difficult times. His integrity and his human approach inspired confidence and I never once felt anything other than secure in the knowledge that he would protect my interests and secure the best possible outcome."
J Tyler, Sutton Coldfield
Meet Richard from Woolley & Co in Sutton Coldfield
Woolley & Co, Solicitors Sutton Coldfield
PO Box 16559
Sutton Coldfield
West Midlands
B73 9WN
Call Woolley & Co, Solicitors in Sutton Coldfield for an initial chat with one of our divorce and family law specialists 0121 66167060121 6616706
Our Flexible Approach

Full service
Let one of our experienced lawyers handle your case from start to finish.
Pay as you go
Take advice as and when you need it from an experienced lawyer
Help with the forms
Get help to complete complex divorce forms before submitting them to the court
Transparent prices
Many of our services are provided on a fixed price basis. In all cases we will explain all costs involved before we undertake any work for you. You can take advantage of a free initial chat by calling or Get a Call Back by completing our online form.
Local office in Sutton Coldfield
Woolley & Co operates from 23 locations in England and Wales, including Sutton Coldfield.
The local team can advise on all aspects of divorce and family law including:
Divorce financial settlements
Pre- and post-nuptial agreements
Cohabitation rights
Civil partnership dissolution
Child care arrangements after a divorce or separation
Marriage annulments
You made a painful procedure easier and more bearable than I imagined it would be.

Fiona Russell-Perry, Banbury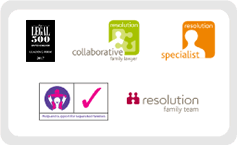 Woolley & Co, Solicitors Sutton Coldfield
PO Box 16559
Sutton Coldfield
West Midlands
B73 9WN
Meet Richard from Woolley & Co in Sutton Coldfield
Latest blog from the
Family Law Team in Sutton Coldfield
By Richard England,
Wednesday October 4, 2017 at 11:53am
Divorce is not easy for anyone involved. The husband and wife, kids, grandparents, friends. Everyone will be affected in different ways. The key thing is to navigate the process and negotiations in as calm a sea as possible.In my experience, dads can often feel like they get the rawest...