Current Vacancies
Divorce & Family Lawyer and Legal Assistant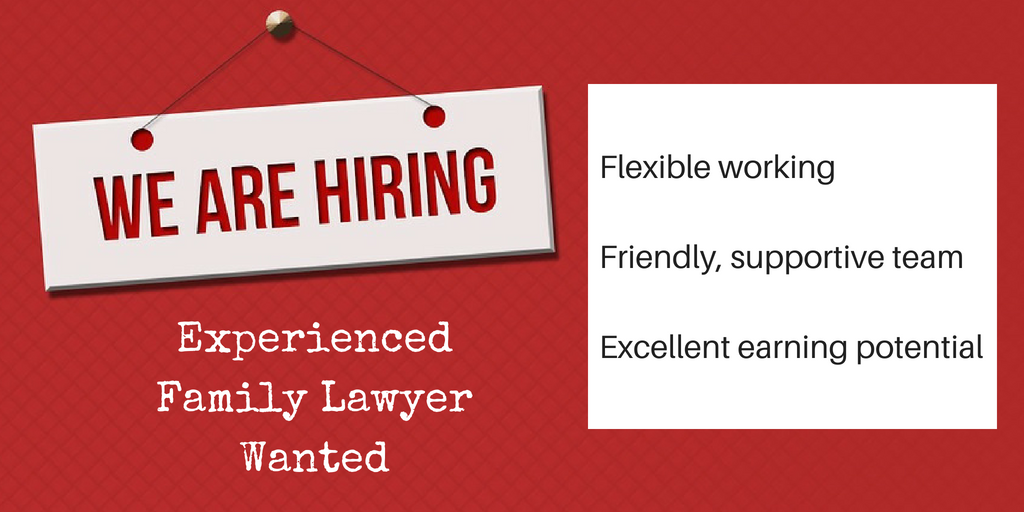 Divorce and Family Lawyer
Are you a family law solicitor or legal executive with 5 years post qualification experience? We'd like to talk
Woolley & Co is looking for an excellent family lawyer to join our Legal 500 recognised, highly respected team.
Your location is unimportant, but you should be able to generate your own caseload through existing contacts and client referrals and must offer excellent client service.
You should have excellent technical ability and experience of handling a broad range of family and matrimonial law cases.
A confident, self-motivated lawyer you will also need to be competent to use Outlook, Word and Practice Management systems.
In return we offer excellent earning potential, autonomy and a highly flexible working environment. Our integrated practice management system and cloud-based IT allows our lawyers to work from a home office base. This unique way of working combined with remuneration which rewards lawyers directly for the work they do allows lawyers the opportunity of significant earning potential.
Lawyers are supported with legal training, personal development coaching and hands-on management support. The effectiveness of this approach has been recognised by LEXCEL and Investor in People in the past.
The firm works exclusively on privately funded family law cases and acts for regional, national and international divorce clients.
Interested? For further information call Michelle Webley on 01789 330310 or email Michelle here. NO AGENCIES.
What our lawyers say about working for Woolley & Co, Solicitors:
"I can't believe that I've more than doubled my earnings since joining Woolley & Co. Being rewarded for my hard work really is a great motivator. Couple that with the flexibility of working from home and this could just be the ideal job!"
Davina Warrington, Solicitor, East Midlands
"For the first time in all my years as a lawyer I can see the just rewards for all my effort. I get out as much as I put in and am rewarded properly for the work I do. There's no hierarchy. At Woolley & Co, we are a team and we all work together and have an equal voice. It was the best career decision I ever made."
Karen Agnew-Griffith, Legal Executive, Norfolk
Read more about Woolley & Co here.
Legal Assistant/Secretary/Para Legal – Family Law
£8-12 per hour, full time potential/flexible
20 days holiday plus bank holidays, pension contribution, very friendly work environment
An excellent opportunity for an experienced legal assistant, secretary or paralegal to join a Legal 500 recognised law firm working from a small admin office near Warwick.
Working for a team of Family and Matrimonial Lawyers spread across the UK typical duties will include:
New file opening / data input on case management system
Progress chasing on cases, including direct contact with clients and other solicitors
Typing documents on instruction of lawyers (including audio and copy typing)
Creating and storing documents on Practice Management system
Supporting lawyers to create Court Forms (divorce petition documents, Form E, Form A etc)
Electronic filing including scanning documents
Creating Court bundles in support of lawyer
File closing and archiving
This role will suit someone who has worked in a family law department for a minimum of 2 year and has the following skills:
Excellent attention to detail, spelling and grammar
Proficient typist experienced in using Outlook and Word
Experience of using Practice Management software, ideally Solicitors Own Software (SOS) although training can be provided
Excellent client care and customer service
Self-motivated and excellent time management
Full training in the Woolley & Co way of working will be provided.
To apply send your CV with a covering letter explaining why you think you are suitable for this role to: Michelle Webley, Managing Director, Woolley & Co, Solicitors by email. NO AGENCIES.

Request a Call
Really appreciate your efforts, support, handling my wobbling. You have "managed" me better than most people do

DS, Stoney Stanton

Reasons to choose
Woolley & Co
Family law expertise
Highly recommended
Speed and flexibility
Fixed prices
Our price promise