Years ago, prenuptial agreements were thought of as only for the rich and famous. There's a lot of misunderstanding and mystery surrounding them, when really they are appropriate for regular clients that I meet every day.
A prenuptial agreement is essentially a contract to set out who will get what in the event of things going wrong. It is a way of protecting assets, like those acquired prior to the marriage, an inheritance or a business. Without a proper prenuptial agreement, the assets can just be thrown into the marital pot with no certainty as to how they would be divided in the event of a split.
Prenuptial agreements can provide a measure of certainty and the means of protecting pre-marriage assets, inheritance, and existing family commitments such as children from a previous marriage.
7 groups of people pre-nups are ideal for
Wants to protect assets they have already
Wants to protect future assets, such as an inheritance they know will be arriving in the future
Has a family from a previous relationship that needs to be provided for
Has a different amount of capital compared to their partner and wants to ensure that they can retain what is theirs
Has already been through one divorce and needs to protect their settlement
Has specific requirements about their housing needs and so needs to be sure that a sale of a property or a certain asset won't be forced
Doesn't want the stress and expense of a protracted court battle in the event of a divorce
Prenuptial agreements are a relatively stress free exercise. They do not cost a fortune and most modern firms, like Woolley & Co will be able to offer you a fixed fee for the work involved. They certainly cost many thousands of pounds less than a contested financial settlement upon divorce! The process isn't complex and doesn't involve an expensive battle between lawyers as everything can be done amicably.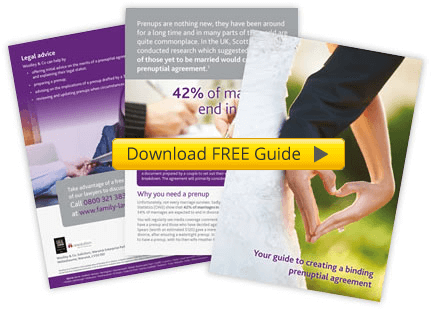 You need to think carefully about what you are both keen to agree to, and instruct a solicitor well ahead of your marriage to prepare the paperwork. You will both need your own lawyer so that you receive independent advice on the terms of the agreement. It is important that you are both transparent about your financial position, that it is signed in good time and that no one is under pressure to sign something that they are unhappy with.
Although pre-nups don't automatically get enforced by the court upon divorce, providing all of the above has been adhered to, then an agreement should be upheld in the event of a split.
Davina Warrington
Divorce solicitor Burton upon Trent