Q. Will a prenuptial agreement stand up in court?
A. At present a prenuptial agreement does not carry the same weight as a Court order and will not 'automatically' be upheld or enforced by an English or Welsh court in the event of a divorce and/or disagreement.
The courts do however take them seriously, as a prenuptial agreement is evidence of your intentions to one another in the event of your relationship breakdown and one of the factors that a court may take into account when looking at all the circumstances of your case.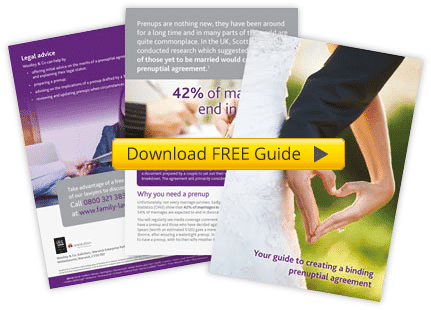 Q. Do I need a prenuptial agreement?
A. If the answer is "Yes" to any of the following scenarios a prenuptial agreement could be right for you:
I am getting married and want to protect my property in case it doesn't work out.
I am about to marry for the second time and want to limit any potential claims on the settlement I received from my first marriage.
I am a widower thinking of marrying again and want to protect my savings.
I am about to marry but worry that if things go wrong we could end up in a costly and lengthy argument.
I am about to marry for the second time but want to protect my assets to ensure I have something to leave in my will to the children from my first marriage if my new relationship breaks down.