When you have a lot of assets, you could have a lot to lose in divorce.
It can be relatively straightforward to divide assets in most divorces, as these are often limited to one property, bank accounts and pensions. However, if you are a wealthy couple, possessions can extend to include things like multiple properties, luxury yachts, substantial investments, art collections and more.
In spite of this many wealthy couples do not have a prenuptial agreement which sets out how they intend their assets to be divided if they divorce.
Surely, for any wealthy individual a pre-nup is just one of the essentials when planning their wedding?
Why do I need a prenuptial agreement?
The first thing to remember is that the process is designed to secure your future in case the worst happens. It's a form of insurance I suppose. It doesn't mean you are not committed to your marriage.
A prenuptial agreement is a document in which a couple set out how they would wish their property, debts, income and other assets purchased together or acquired individually, through inheritance, for instance, or that they have bought into a relationship to be divided or dealt with if things go wrong.
Legally, once married all of these assets may become matrimonial assets and, unless specifically protected, could be thrown into a single financial 'pot' which in principle could be divided 50/50 on divorce. The primary purpose of a "prenup" will frequently be to limit the potential claims on the wealth of one of the parties to the marriage.
How do I get a prenuptial agreement?
An important point here is to plan ahead. A hastily prepared document signed on the day of the wedding will carry less weight than one carefully mapped out and discussed months in advance. Indeed unless it has been prepared a minimum of 3 weeks before the marriage, it may have no effect at all.
If you have significant assets that you are bringing to a marriage, a pre-nuptial agreement is likely to be more time consuming to prepare. An experienced family law specialist should be consulted in the first instance to advise on the best approach.
Full disclosure of all assets needs to be made. Whether it be a collection of artwork, a property portfolio, or accumulated pensions wealth, all must be on the table when the pre-nup is discussed.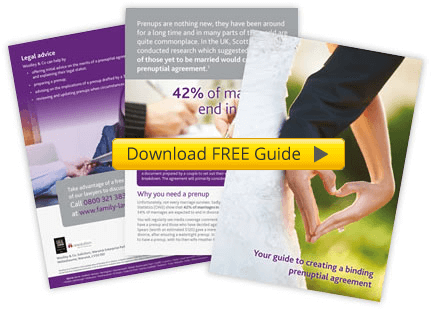 A pre-nup is a contract after all so it needs to be as comprehensive as possible and be very clear on the terms and conditions. You need to think about the future and make sure the agreement takes account of things like having children, the acquisition of a business or the decision of one party to cease work.
It is always advisable to review of the agreement, perhaps every 2 or 3 years, to make sure it is still relevant to your circumstances and still what you both want.
Will a prenuptial agreement stand up in court?
A landmark Supreme Court decision in the case of Radmacher v Grantino added significant weight behind prenuptial agreements that are properly drafted, prepared well in advance and have the full and informed cooperation and involvement of both parties. The Courts are very supportive of couples taking responsibility themselves for deciding a fair division of assets. So, it is likely that a prenuptial agreement will be upheld - unless a judge considers that the terms are clearly 'unfair'.
The best advice is to speak to an experienced family law solicitor as part of your wedding preparations. Not very romantic, maybe, but it could save a whole lot of heart ache in the future.
Kate Butler
Family lawyer Northampton