5th Annual Family Law Solicitors Conference a Great Success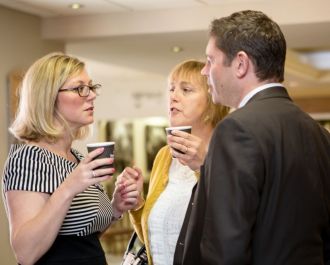 Last Friday, 15th May 2015, saw the 5th Annual Woolley & Co lawyers conference held in Warwickshire. Opening the conference senior partner Andrew Woolley set out his observations on the current state of family law, commenting on a few challenges ahead but noting how well positioned Woolley & Co are to meet these factors head on.
During a packed agenda the Woolley & Co family law team heard first from barrister Gavin Lyon of 36 Bedford Row who covered Spousal maintenance, how to get what your client wants. In a lively Question Time debate before lunch a panel of experts discussed the best way to make sure the child's voice is heard in family law cases. They also debated the best ways to spot the early warning signs of intractable hostility in contact disputes and asked whether the presumption of parental involvement has made any real difference in practice.
The panel members included Neil Robinson, Family Mediation Centre, Staffordshire, Linda Cane of CAFCASS and Zoe Saunders a barrister from St John's Chambers in Bristol.
The topics of mediation and alternative dispute resolution ran through the day with mediators from the Family Mediation Centre in Staffordshire and Compass Resolution providing input.
"Our annual conference is a great opportunity to hear from expert speakers and debate together the changes, challenges and opportunities facing family lawyers moving forward", explained Andrew Woolley.
"We have a fantastic team at Woolley & Co and are committed to being the best lawyers we can possibly be, that means regular legal training, but it also means developing other skills too so it was great to have John Hind of Compass Resolution lead a workshop session looking at better ways of helping our clients reach agreement."
The full Woolley & Co team of 22 divorce and family lawyers was in attendance along with senior partner Andrew Woolley and members of the management team.