Fiona is a family law solicitor based in Duxford, South Cambridgeshire. She
qualified as a solicitor in 1999. Fiona offers advice on all aspects of family law to include divorce, separation, financial settlements and arrangements for the children.
Prior to joining Woolley & Co, Fiona worked as a family lawyer within regional law firms in London, Hertfordshire, Cambridgeshire, and as a Partner in a busy family law team in Norfolk. More recently Fiona has been working as an in-house lawyer with The Law Society, Solicitors' Regulation Authority and Peterborough City Council, as well as operating as a Notary Public (specialising in legal documents for use overseas).
Fiona is known for her warm and intuitive approach when advising her clients. She works hard to achieve their goals and is genuinely invested in achieving the best outcomes for them. She excels at assisting clients to grasp difficult legal concepts.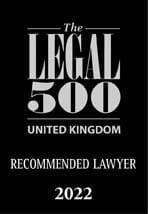 Fiona has been named as a Recommended Lawyer for Family Law in East Anglia in Legal 500. Our team in the region is noted for "outstanding service and timely, appropriate, knowledgeable and supportive advice".
"When you come to me for advice, we will work together to find sensible solutions, identifying what works best for you, in your particular circumstances. There are often some very tough decisions to be made. I offer clear guidance, sound advice and support.
"My aim is to help you resolve legal issues through a constructive and non-confrontational process whenever possible, helping to reduce the impact of relationship breakdown on all those concerned. Whilst providing steadfast support for clients I always retain a firm grasp of the legal complexities of each case, strengthening my ability to advocate on my clients' behalf.
"Beyond the office, my time is focused upon my three children and the family pets. School holidays are usually spent exploring North Wales."
Fiona qualified as a solicitor in 1999 and joined Woolley & Co in February 2020.