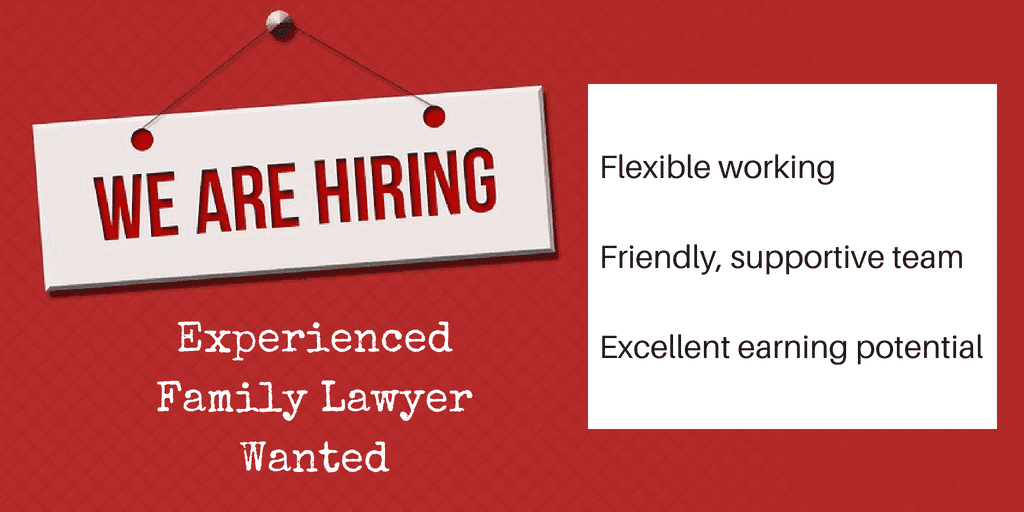 Divorce and Family Lawyer Wanted
Are you a family law solicitor or legal executive with 5 years post qualification experience? We'd like to talk
Woolley & Co is looking for an excellent family lawyer to join our Legal 500 recognised, highly respected team.
Your location is unimportant, but you should be able to generate your own caseload through existing contacts and client referrals and must offer excellent client service.
You should have excellent technical ability and experience of handling a broad range of family and matrimonial law cases.
A confident, self-motivated lawyer you will also need to be competent to use Outlook, Word and Practice Management systems.
In return we offer excellent earning potential, autonomy and a highly flexible working environment. Our integrated practice management system and cloud-based IT allows our lawyers to work from a home office base. This unique way of working combined with remuneration which rewards lawyers directly for the work they do allows lawyers the opportunity of significant earning potential.
Lawyers are supported with legal training, personal development coaching and hands-on management support. The effectiveness of this approach has been recognised by LEXCEL and Investor in People in the past.
The firm works exclusively on privately funded family law cases and acts for regional, national and international divorce clients.
Interested? For further information call Michelle Webley on +44 (0)1789 330310 or email Michelle here.  NO AGENCIES.
What our lawyers say about working for Woolley & Co, Solicitors:
"It is brilliant to be part of a large, specialist family law team that is consistently recognised for high level, complex and diverse work.  The wealth of experience in the (very friendly) team, along with the firm's commitment to training and development and an innovative and on the ball Head Office team makes for a very supportive working environment.  Client care really is the heart of the firm – but it goes hand in hand with looking after lawyers too."
Kathryn McTaggart, Solicitor, Wales
"I can't believe that I've more than doubled my earnings since joining Woolley & Co. Being rewarded for my hard work really is a great motivator. Couple that with the flexibility of working from home and this could just be the ideal job!"
Davina Warrington, Solicitor, East Midlands
"For the first time in all my years as a lawyer I can see the just rewards for all my effort. I get out as much as I put in and am rewarded properly for the work I do. There's no hierarchy. At Woolley & Co, we are a team and we all work together and have an equal voice. It was the best career decision I ever made."
Karen Agnew-Griffith, Legal Executive, Norfolk
Read more about Woolley & Co here.