Tamara is a divorce and family law solicitor with Woolley & Co based near Bedford covering Bedfordshire and Cambridgeshire. She has a wealth of experience in all aspects of family law, having qualified as a solicitor in 1995 and practiced exclusively in this area since then. Tamara is also trained in collaborative law – a process where the solicitor guides and supports separating couples through a series of meetings to find their own solutions to the complexities of divorce.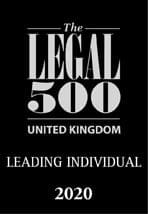 Tamara has been named as a Leading Individual for Family Law in East Anglia in Legal 500 2020. They say she is "a respected advocate in high-value cases".
Tamara is a confident, experienced and able Court advocate, with experience up to the Court of Appeal.
"I am aware that there is no "one size fits all" solution when a relationship ends. Every case and every client is unique and I have acquired qualifications which enable me to offer a range of options to each individual situation. As a child, my parents divorced "well" and I like to think that my history provides me with an insight that can help my Clients through the separation process without unnecessary acrimony.
I am experienced in advising on the specific complexities presented in farming families upon separation. I also have extensive experience working for Clients who are in the Armed Forces and, as the daughter of an RAF Officer I have an insight into Service life. 
My experience in advising on cases concerning children is considerable, and includes successfully opposing the permanent removal of a child from the UK crafting workable Parenting Plans for the children after separation and advising on adoption. 
I find enormous job satisfaction in assisting clients to identify their own priorities and finding more creative solutions than the court-based process has traditionally allowed. However, where Court Proceedings are necessary, I have a successful track record and an excellent reputation. 
Prior to joining Woolley & Co I was a Partner in a busy family law team in Cambridgeshire. 
In my spare time I run a 24/7 taxi service for my three children and enjoy running with my Springer Spaniel." 
Tamara qualified as a solicitor in November 1995 and joined Woolley & Co in April 2013. She's previously worked for a Cambridgeshire law firm where she was a Partner.